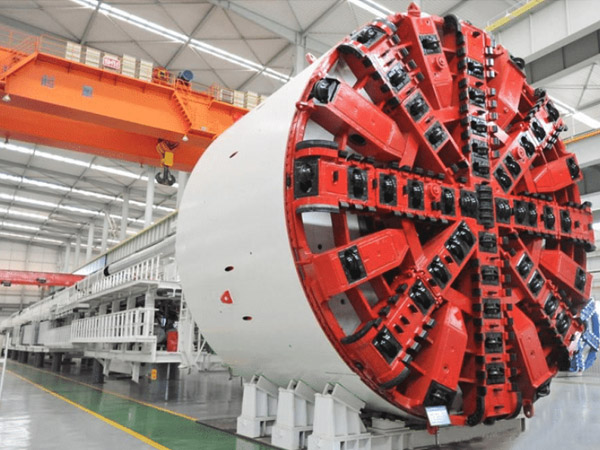 Tunnel boring machine as known as shield machine, is the main construction machinery in the process of shield construction. It must have high reliability and be able to work steadily and reliably. The main bearings of large-scale shield machine mostly adopt three rows roller slewing bearings, which need to bear large axial force and overturning moment, and also bear certain radial force. The loading situation is complex, and it is easy to produce large deformation, which affects the construction safety of the shield machine.
The slewing includes an upper ring and a lower ring. The upper ring is connected with the lower ring by bolts to form an outer ring structure. The gear ring is located in the inner ring structure. The side of the gear ring is provided with a convex platform. The upper ring and upper ring of the convex platform are provided with an upper raceway, the upper raceway is equipped with an upper row of rollers, the lower raceway is equipped with a lower row of rollers, and the side and outer ring of the convex platform are equipped with a lower row of rollers. There is a radial raceway between them, and a radial roller is arranged in the radial raceway. The inner edge of the upper ring and the upper end of the gear ring are connected with double sealing rings, and the lower end of the gear ring is connected with a lower sealing belt.
The bearing capacity of each rolling element of three-row roller slewing bearing is clearly divided.and the upper and lower roller bears 90 degrees, giving full play to the bearing capacity of each row of rolling elements. Therefore, it has a higher bearing capacity of axial force, radial force and overturning moment. It satisfies the requirement of construction machinery, especially crane, stacker and ladle turret for the use of slewing bearing.