RU Series Crossed Roller Slewing Bearing
URU Series Crossed Roller Slewing Bearing RU-series Cross roller bearing used for CNC machine tools and Robotic Arm.   Product Features HGB Crossed roller bearings are lightweight, compact bearin […]
RU Series Crossed Roller Slewing Bearing
RU-series Cross roller bearing used for CNC machine tools and Robotic Arm.
Product Features
HGB Crossed roller bearings are lightweight, compact bearings with thinnest possible inner and outer rings with high rigidity, because of its vertical arrangement of cylindrical rollers with a 90°V groove through the separate spacers in the deep groove rolling surface. This special design allows just one bearing to carry loads in all directions including radial, axial and moment loads.
Series Introduction
RU special type is a bearing with integrated inner- and outer ring. It is used in cases where high rotational accuracy of both the inner- and outer rings is required.
Applications
Industrial Robotic arm, Reducer drive
Precision Turntable, CNC rotary table
Rotation part of Machine tools
Inspection instrument, Medical equipment
Aviation equipment, Military radar etc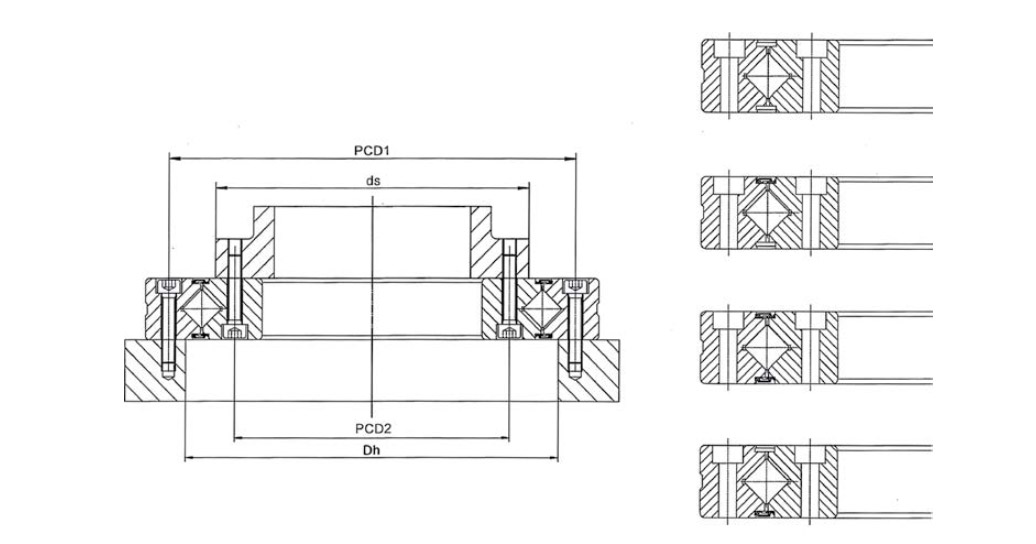 TYPE
Inner diameter
Outer diameter
Pitch diameter
Height
Chamfer
Shoulder size
Basic rated load(Radial)
Weight
d
D
Dpw
B
r
ds
Dh
Cr Kn
Cor Kn
KG
RU 28
10
52
28
8
0.3
24
29.5
2.9
24
0.12
RU 42
20
70
41.5
12
0.6
37
47
7.35
8.35
0.29
RU 66
35
95
66
15
0.6
59
74
17.5
22.3
0.62
RU 85
55
120
85
15
0.6
79
93
20.3
29.5
1
RU 124(G)
80
165
124
22
1
114
134
33.1
50.9
2.6
RU 124X
RU 148(G)
90
210
147.5
25
1.5
133
162
49.1
76.8
4.9
RU 148X
RU 178(G)
115
240
178
28
1.5
161
195
80.3
135
6.8
RU 178X
RU 228(G)
160
295
227.5
35
2
208
246
104
173
11.4
RU 228X
RU 297(G)
210
380
297.3
40
2.5
272
320
156
281
21.3
RU 297X
RU 445(G)
350
540
445.4
45
2.5
417
473
222
473
35.4
RU 445X