Slewing bearing is a large bearing that can withstand comprehensive loads. It is widely used in many construction machinery, such as our common excavators, road rollers, etc. Bearing failure during operation is a headache for many construction machinery operators. Next, Hengguan Xiaobian will introduce to you the common failures of slewing bearings during daily operation and how to deal with them.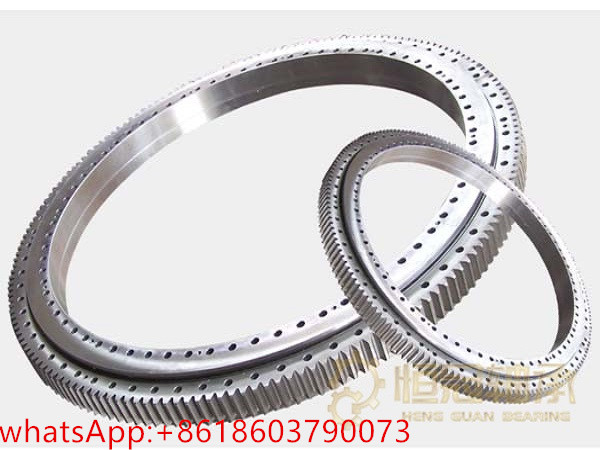 ​​
Common faults and solutions
​​
1. Inflexible rotation
​​
The inflexible operation of the slewing bearing during use is generally due to insufficient grease, damage to the sealing strip, and foreign matter entering the raceway.
​​
Treatment method: add or replace grease, remove foreign matter and replace sealing strip. If the slewing bearing still cannot operate flexibly after taking the above measures, there may be a fault in the raceway, and it is necessary to contact the bearing after-sales service.
​​
2. Abnormal noise
​​
First of all, it is necessary to determine whether it is the sound from the slewing bearing. You can stop the rotation of the slewing bearing and other components operate normally to determine the source of the sound. Generally, the causes of abnormal noise in bearings include insufficient lubrication, which makes the rolling elements collide with the spacer, and foreign objects are mixed in the raceway.
​​
Treatment method: replenish grease in time. If the sealing strip is damaged, replace it and remove the internal foreign matter. If the bolt is loose, it needs to be tightened according to relevant standards.
​​
3. Shake
​​
The shaking of the slewing bearing is generally due to loose mounting bolts, insufficient rigidity of the steel structure supporting the slewing bearing, and overloading operations.
​​
Treatment method: If the bolts are loose, check all the inner and outer ring mounting bolts and tighten them as required; if the rigidity of the steel structure is not enough to produce elastic deformation, the strength of the supporting slewing bearing steel structure needs to be increased; do not overload.
​​
4. Broken teeth
​​
Most of the broken teeth are related to the non-standard installation. For example, the backlash of the large and small gears is improperly adjusted, which causes the two gears to mesh badly during operation, resulting in broken teeth; The mounting bolts are not tightly fixed, and the large and small gears are poorly meshed, resulting in broken teeth. In use, if overloaded and rotated at high speed, the host collides with obstacles, and foreign objects are stuck, it may also cause broken teeth.
​​
Treatment method: When installing, adjust the backlash strictly according to the requirements to ensure that the axes of the two gears are parallel, and the bolts should be tightened as required; the operation should be carried out in accordance with the operating procedures.
​​
The above are the common faults and treatment methods of slewing bearings in daily use of construction machinery summarized by Xiaobian. I hope it will be helpful to your operation. If you have any other questions or needs, you can leave a message or contact us by phone.
https://www.hgb-bearing.com/wp-content/uploads/2020/09/2020081317_50644.jpg
369
600
admin
https://www.hgb-bearing.com/wp-content/uploads/2019/12/logo-2.png
admin
2022-05-12 12:09:01
2022-09-22 15:05:04
Common faults and treatment methods of slewing bearing