With the continuous advancement of technology in recent years, machinery industry has achieved rapid development, which has also driven the market demand for slewing bearings. Slewing bearing is called the joint of the machine or the large-scale mechanical rotation bearing, which can withstand the combined loads such as the larger axial load, radial load and overturning moment during operation. Do you know the types and characteristics of slewing bearings?
Due to its compact structure, easy to guide rotation, easy installation and easy maintenance, slewing bearings are widely used in engineering, mining, metallurgy, wind power, ships, ports, petroleum, chemical, light industry, medical equipment, food, and vehicles. , Robotics, aerospace, radar, and military industries.
Common types of slewing bearings are single-row, double-row four-point contact ball slewing bearings, double-row angular contact thrust ball slewing bearings, crossed cylindrical roller and crossed tapered roller slewing bearings, three-row cylindrical roller slewing bearings, and ball-column hybrids structures slewing bearings.
 Types of slewing bearings
   1) Single row cross roller slewing bearing
Composed of two seat rings, compact structure, high accuracy, small assembly clearance, high requirements for installation accuracy, the rollers are in 1:1 cross arrange , can bear axial force, tilting moment and large radial force at the same time , Is widely used in transportation, engineering machinery and military products.
  2) single row four-point contact ball slewing bearing
  It is composed of four parts: inner ring, outer ring, steel ball, and spacer. It has a relatively compact structure, light weight, four-point contact between the steel ball and the arc raceway, and can bear axial and radial forces at the same time. Construction machinery such as rotary conveyors, welding manipulators, small and medium-sized cranes and excavators can select this type.
   Four-point contact ball slewing bearing. It is also a bearing with two rings. Compared with a cross roller bearing, the steel ball and the track are in contact at four points, and it can also carry forces in the axial and radial directions.
      3) double row ball slewing bearing
  It is constructed with three races. The steel balls and spacers can be directly discharged into the upper and lower raceways. According to the stress conditions, two rows of steel balls with different diameters are arranged. This kind of open assembly is very convenient. The load-bearing angle of the upper and lower arc raceways is 90°, which can bear great axial force and tilting moment. When the radial force is greater than 0.1 times the axial force, the raceway must be specially designed. The axial and radial dimensions of the double-row reducing ball slewing ring are relatively large and the structure is tight. It is especially suitable for loading and unloading machinery such as tower cranes and truck cranes that require medium and above diameters.
  4) three-row roller slewing bearing is composed of three races, the upper and lower and radial raceways are separated, so that the load of each row of rollers can be accurately determined. It can bear various loads at the same time. It is one of the four products with larger axial and radial dimensions and a firm structure. It is especially suitable for heavy machinery requiring larger diameters, such as bucket wheel excavators and wheeled excavators. Cranes, ship cranes, port cranes, molten steel moving platforms and large-tonnage truck cranes and other machinery.
  5) light series slewing bearing
   Light weight slewing bearing has the same structure as ordinary slewing bearings, light weight and flexible rotation. It is widely used in food machinery, filling machinery, environmental protection machinery and other fields.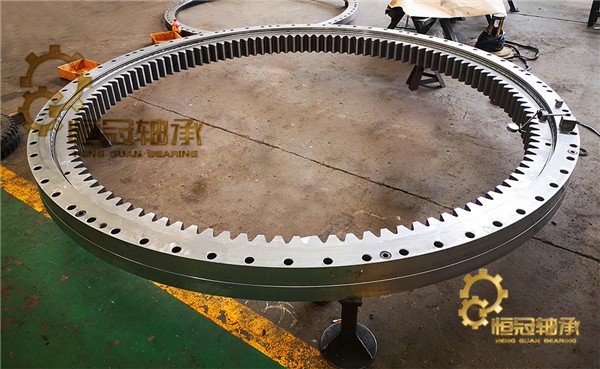 Application of slewing bearings
  1) Construction machinery
Construction machinery is a application where slewing bearings are initially and widely used, such as earthmoving machinery, excavators, dismantling machines, stackers and reclaimers, graders, road rollers, dynamic compactors, rock drilling machines, roadheaders, etc.
  2) Wind power generation field
   Wind turbine bearings usually include yaw bearings, pitch bearings, transmission system bearings (main shaft and gearbox bearings). Yaw bearings and pitch bearings are provided to customers. The yaw bearing is installed at the connection between the tower and the cabin, and the pitch bearing is installed at the connection between the root of each blade and the hub. Each wind turbine uses one set of yaw bearings and three sets of pitch bearings.
      3) solar field
 Rotating solar panels are a good solution to increase energy. Because the bearing has a very compact design, it supplies solar farms in Europe.
  4) the field of medical equipment
  The high-precision, low-noise, long-life, and high-reliability series of medical equipment spindle slewing bearings have been widely used in large medical equipment such as gamma knives, CT machines, and nuclear magnetic resonance machines.
   The above is an introduction to the types and characteristics of slewing bearings. Different types of slewing bearings can meet different load conditions according to different structural characteristics.
https://www.hgb-bearing.com/wp-content/uploads/2019/12/logo-2.png
0
0
admin
https://www.hgb-bearing.com/wp-content/uploads/2019/12/logo-2.png
admin
2020-09-11 16:14:43
2020-09-11 16:14:43
Types, Characteristics and applications of slewing bearing