Recently, our company (Luoyang Hengguan Bearing Technology Co., Ltd.), to a ship management company in Indonesia, a custom -made carrier -specific bearing of the Cingling Specific Capital, which lasted for 35 days of overtime production process. buyer.
The crane is a foreign word. The English is CRANE, also known as a ship crane and a shiplift machine. It is a large deck machine on the ship. It is a device for ship loading and unloading. Planting and unloading equipment. At present, our company gives: Mitsubishi (Mitsubishi), Tsuji (辻 Industry), Fukushima (Fukushima), McKega, Roballo and other crane brands have provided replacement of rotary support for bearing products and services.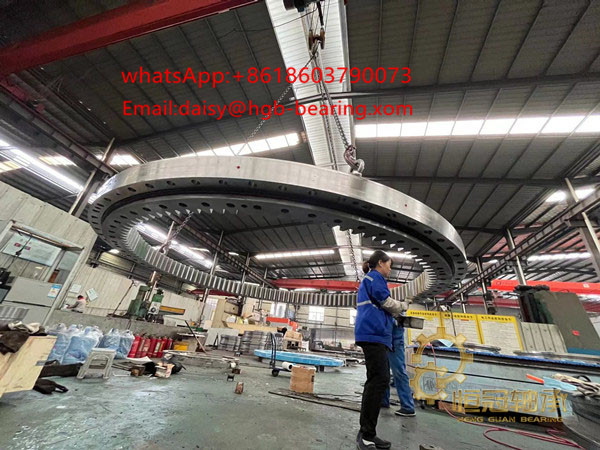 At the assembly site, the bearing of the bearing of the bearing of the bearing is: 62M3937.05.631, which is a four -point ball -type rotary support for the inner teeth. The shape parameters are 3078*2596*170, which is a common gram of the bearing structure. The shipowner plans to replace the two grams of large bearing. When the ship enters the port of Shanghai in China, it has booked a large repair replacement to replace the bearings. As the ship is full of universal year, the detailed parameters of the large bearing will be confirmed after the ship is shore and the unloading is completed after the ship is shore. After the goods, the next voyage will be turned on, about 35-45 days; so the shipowner requires that within 35 days, the bearing will be seamlessly connected to the port of Shanghai. , Time is money, competing for points, creating value for customers, we will be more valuable!
The vivid and true case at the delivery site is the better answer sheet of Hengguan returned to society. Luoyang Hengguan Bearing, as a member of the traditional manufacturing industry, but we have tried our best to abandon the traditional industrialization thinking, do not take self -centered, do not take technology, and do not take products as the center. Centered on; with user -oriented, market demand as the core; establishing brand strategic ideas, only in this way, can develop for a long time, increasingly strong! Choose Henguan to keep you worry -free! Come on, join us, I hope you will become our next full case participant!
https://www.hgb-bearing.com/wp-content/uploads/2022/10/20221008104453_95255.jpg
450
600
admin
https://www.hgb-bearing.com/wp-content/uploads/2019/12/logo-2.png
admin
2022-10-19 13:55:40
2022-10-19 13:55:40
The special slewing bearing of Keling crane was successfully completed and delivered