Recently, Luoyang Hengguan Bearing Technology Co., Ltd. (hereinafter referred to as: Hengguan Bearing), which is a low -noise rotation support for a large medical equipment manufacturer in South Korea, has successfully went offline and all meet the requirements of the customer's use.
The low noise rotation support bearing is supported on the CT machine. The ordering party requires that the noise must be controlled within 60 decibels, otherwise it will be rejected. This product plan begins with the inquiry from the Ministry of Foreign Trade of our company. After several rounds of negotiations and discussions, in -depth understanding of customer use conditions and requirements, through video conferences, accurately understand the pain points and demands of the client, and then combine our technical staff of our company. Professional research and judgment, signed this order after half a year.
Slewing ring
After receiving the order, our Si immediately arranged a high -quality forging material to strive to grasp the quality barrier from the source. First of all, the top priority of these products is how to control the noise and noise reduction is Guan Jian. Our technical staff fully combines professional skills and practical experience, formulated a complete processing process, and marked the main points that should be paid attention to in each process. The bearing rolling road is a very important process during the bearing processing process, which is related to the life, performance, accuracy, and stability of a set of bearing. Followed by the batch of low -noise rotary support for the bearing, it is vertical installation. In order to ensure the smooth rotation, our company specially customized a batch of overall nylon maintenance racks. Third, our company has made special improvements in maintaining the shelf, which can greatly reduce operating noise and ensure that the operating noise is controlled within 60 decibels. (Popularization of common sense: When we usually talk normally, the sound intensity is about 80 decibels)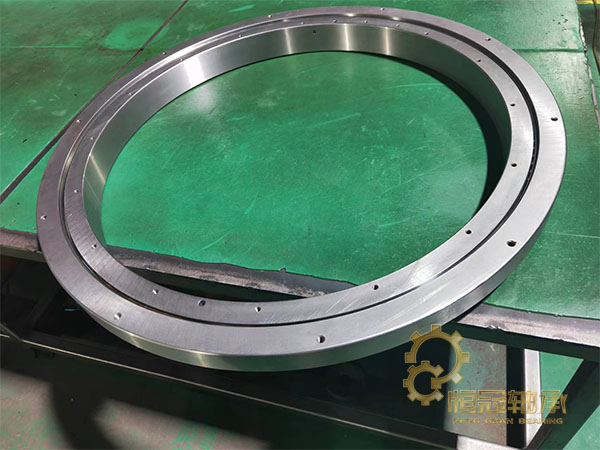 After a series of tight and orderly processing and production, the batch of products are successfully completed and offline. After testing, all requirements were within the scope of the drawing of the guests, and the Henglee challenged again! The important thing is that we keep our promises and realize the customer's demands. We believe that in the future, we will export more high -quality rotary support for the bearings, go to the world, carry forward the Chinese manufacturing industry, promote the spirit of the craftsmen of the great powers, and let the world fall in love with Chinese manufacturing!
https://www.hgb-bearing.com/wp-content/uploads/2022/11/20221116141117_48867-1.jpg
450
600
admin
https://www.hgb-bearing.com/wp-content/uploads/2019/12/logo-2.png
admin
2022-11-17 14:29:50
2022-11-17 14:29:50
Low noise Ct scan slewing bearing complete completion