Recently, our company (Luoyang Hengguan Bearing Technology Co., Ltd.) has customized the special slewing ring bearings for cranes for a ship management company in Indonesia. It took 35 days of overtime production process, and the quality and quantity have been successfully completed and delivered to buyer.
the
Crane is a foreign word, English is crane, also known as marine crane, marine crane, is a large deck machinery on board, it is a kind of equipment for loading and unloading cargo on ships, hydraulic crane is a commonly used on ships Loading and unloading equipment. At present, our company has provided replacement slewing ring bearing products and services for: MITSUBISHI (Mitsubishi), TSUJI (tsuji industry), FUKUSHIMA (Fukushima), MacGregor, ROBALLO and other crane brands.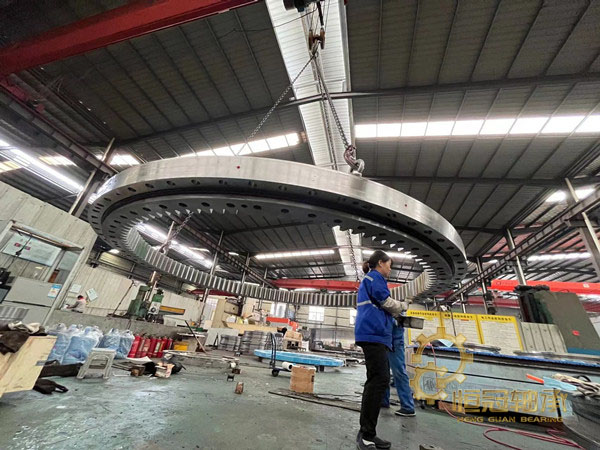 Assembly site The drawing model of the crane slewing ring bearing is: 62M3937.05.631, which is a single-row four-point ball slewing ring with internal teeth, and its shape parameters are 3078*2596*170, which is a common crane bearing structure. The shipowner plans to replace the large bearings of the two gram cranes. When the ship entered the port of Shanghai, China, it made a plan for overhaul and replacement of the bearings. Since the ship is open all year round, the detailed parameters of the large bearings will be confirmed after the ship berths and unloaded. After the cargo is delivered, the next voyage will start, and the round trip will take about 35-45 days; therefore, the shipowner requires that the bearings must be sent to the destination port in Shanghai within 35 days for seamless connection, so that the ship can be replaced in time after arriving at the port. , Time is money, we will be more valuable if we compete for points and create value for customers!
The delivery site The vivid and real cases again and again are the better answers for Hengguan people to repay the society. Luoyang Hengguan Bearing, as a member of the traditional manufacturing industry, but we have tried our best to abandon the traditional industrial thinking, not self-centered, not technology-centered, not product-centered; but customer-centered, service-oriented As the center; user-oriented, market demand as the core; establish brand strategic thinking, only in this way can we develop for a long time and become stronger day by day! Choose Hengguan to keep you worry-free! Come on, join us, we hope you will be a participant in our next successful case!
https://www.hgb-bearing.com/wp-content/uploads/2022/11/20221008104453_95255.jpg
450
600
admin
https://www.hgb-bearing.com/wp-content/uploads/2019/12/logo-2.png
admin
2022-11-28 14:08:35
2022-11-28 14:08:35
The special slewing bearing for Crane was successfully completed and delivered